Hatteras Fishing Charter Boat:
Tuna Duck
Offshore Deep Sea Fishing
From the Outer Banks of North Carolina
Available year 'round for offshore deep sea
Hatteras fishing charters
from Hatteras Village, North Carolina
and for east coast tournaments.
$1550 Full Day
Winter Rates: Dec. 21- Jan. 31 $1600
February - March $1800
Half Day $700 (May only be booked a week in advance from Memorial Day to Labor Day. Special circumstances apply. Please call Capt. Rooks for details at 252-216-6160.)
Cape Hatteras Fishing Report: September 24, 2016: Sailfish releases, meat slam, fantastic fishing: wahoo, yellowfin tuna, blackfiin tuna, skipjack tuna, and dolphin.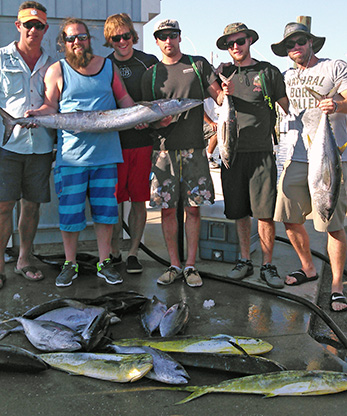 The best marlin fishing on the planet is happening offshore of North Carolina now, and should continue through the next couple of weeks.
I would like to get into it again.
The fish are in range for an overnight trip. The fish are moving closer on the northeast winds, and should come into range for day trips.
Call for more information. 252-216-6160 or 772-219-9592

We post a saltwater fishing report with photos EVERY day we go offshore fishing. Go to our Daily Catches Page and you can see our catches for EVERY charter we've run since July2009. This is helpful to show you just whatwe bring to the dock or release during each month of charter fishing on North Carolina's Outer Banks.

In the contiuing quest to offer a quality charter service, we have upgraded. Sound down acoustic insulation and climate control will offer added comfort for our passengers.

We offer "Six Pack" (1 to 6 anglers) charters from
the Outer Banks off Cape Hatteras, N.C.
We fish for yellowfin tuna, bluefin tuna, blue marlin, white marlin, sailfish, wahoo, dolphin (mahi mahi), and king mackerel.
Capt. Dan Rooks
PO Box 351 Hatteras, NC
252-216-6160
For Booking You May Also Call Mary
772-219-9592
Located on the Outer Banks at the southern end of Hatteras Island in Hatteras Village, and fishing out of Hatteras Inlet, between Hatteras and Ocracoke Islands.

Grab your polarized sunglasses,
camera, a cooler with food and drink and
we'll do the rest!
Your Hatteras fishing charter will include all tackle and bait; we have all the necessary permits. We'll leave at dawn and return between 4 and 5 PM with 6 to 7 hours actual fishing time. Our run to the gulfstream takes only 1 to 1- 1/2 hours. Per Coast Guard regulations, 1 to 6 people are permitted on each Hatteras fishing charter.